Ministry of Jobs, Trade and Technology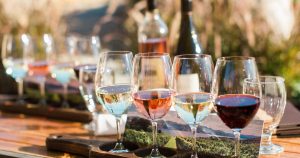 VICTORIA – In a move aimed at protecting and supporting the province's wine producers, Minister of Jobs, Trade and Technology Bruce Ralston has announced that the B.C. government is formally challenging Alberta's ban on B.C. wines through the Canadian Free Trade Agreement's (CFTA) dispute settlement process.
"B.C.'s wine industry is an important contributor to our economy, creating good jobs and other economic benefits for people in B.C.," Ralston said. "We're standing by our wine producers and the communities that rely on this important industry by launching a formal trade dispute, and we are confident we will be successful."
The Province has notified the Government of Alberta that it is formally requesting consultations under the CFTA regarding Alberta's actions to ban the sale of B.C. wine. This will be the first formal dispute to occur under the new CFTA.
"Alberta's actions threaten the livelihood of the families that have worked so hard to build B.C.'s world-class wine industry," Ralston said. "These actions are inconsistent with Alberta's obligations under the CFTA, and we will protect our reputation and the interests of British Columbians."
In addition to this trade challenge, the Province is supporting B.C.'s wine industry by proclaiming April as B.C. Wine Month. Government is also increasing opportunities to have B.C. wines in local BC Liquor Stores, including local wines from small and medium producers that are not typically available outside of the wineries. Funding is also being made available for the Buy BC: Eat Drink Local campaign, and to support the marketing of BC VQA wines to new international markets.
Quick Facts:
* B.C.'s wine industry employs about 12,000 people, and has an economic impact of $2.8 billion annually on the province.
* B.C. is home to 929 vineyards, including over 350 licensed wineries.
* There are just under 3,900 hectares of wine grapes grown in B.C.
* More than 60 different grape varieties are produced in the province, including Merlot, Pinot Gris, Pinot Noir, Chardonnay, Cabernet Sauvignon, Gewurztraminer, Cabernet Franc, Syrah, Riesling and Sauvignon Blanc.
* In 2016, B.C. wine exports increased 4% to $9.7 million, shipped to 17 international markets.
* Ice wine exports were $1.8 million of the total.
* The top markets for B.C. wine were China (54%), Taiwan (23%) and the United States (11%).
Learn More:
To learn more about the Canadian Free Trade Agreement, visit: https://news.gov.bc.ca/factsheets/factsheet-canadian-free-trade-agreement-cftaww.something.com